State of the Entertainment Industry
As Covid-19 rocks the entertainment industry, studios are trying to stay productive and keep their workforces employed. Box office receipts have plummeted worldwide and movie releases have gone straight to on demand or have been delayed as the entertainment industry has been bludgeoned by theater closings, event cancellations and film festivals and industry marketing conferences put on hold.
In the meantime, studios are wondering how to keep the backlog of films and video games that are in production on track as production artists, designers, and animators located around the globe have been sent home.
Key challenges this industry faces are managing very large graphic, sound, art and video files, incorporating complex tools and technology across remote work locations, and coordinating communication and collaboration for team members while keeping everything secure and protected.
As many studios struggle to adapt, Wildlife studios is amongst one of the growing adopters looking to Artella to keep them working.
"Artella is extremely easy and intuitive and allows visibility and feedback to occur fast and reliably in a familiar and fun environment. Artists love how simple and effective Arttella is to use and I'd have a hard time imagining working in a team without it."
Rich Diamant -Studio Technical Art Director Wildlife Studios
How Artella works:
Unlike other production management software, Artella isn't a reskinned scrum board, Gantt chart, or text feed. Instead of looking at confusing spreadsheets or complicated project management boards. Artists are welcomed to a visual interface for their project media, files, and team members, that are updated in real-time as the project evolves.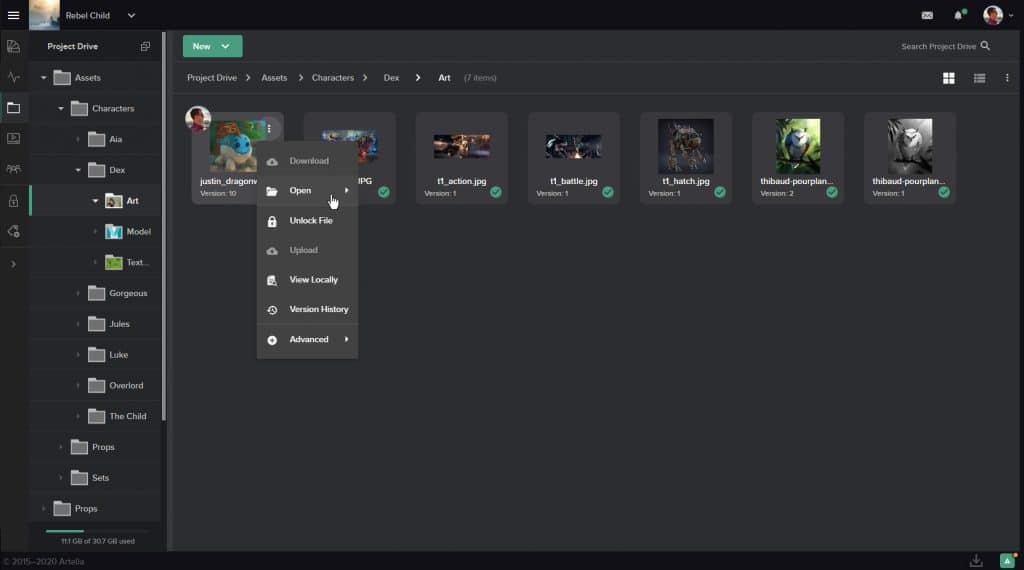 To learn why Artella is the next big thing in the animation industry, let's take a look at a typical studio production team that consists of artists and animators. By nature, artists think and work visually. Unfortunately, traditional project management systems focus on spreadsheets, text boards, waterfall charts, and text-based tools to manage a team. This works great for project managers and technical types, but not for artists and animators. Artella takes a different approach. It was built for artists first with a visual feed with easy and intuitive navigation that enables file management, review tools and seamless collaboration whether they are in the studio or working from home. Artella turns the traditional project management platform on its head by putting artists in the driver's seat helping to keep them on track and productive.
Built for Artists By Artists
Artella CEO Bobby Beck and co-founders Carlos Baena, and Shawn Kelly created Artella to serve the specific needs of the artists and animators. Since no one has built a production solution that worked for just for artists, he and his team took it upon themselves to build a solution designed expressly for artists first. Bobby has worked in the entertainment industry for more than 20 years as a feature-film studio animator, educator, and entrepreneur. Artella was originally created as the production pipeline for the online animation school, Animation Mentor, that he co-founded in 2005. Working with other large studios, the Artella team has been adding features and functionality to support large game development companies and feature film, commercial and visual effects studios. It's the only pipeline workflow management system developed for the artist first.
"If you can get artists to love and enjoy the tools then the data is already there and you can slice it in meaningful ways for production managers. This works much better than trying to shoehorn artists into a tool built for production managers that they hate using." Says Beck.

The User Experience
So how does it feel to use Artella?
The web-based platform integrates with all of your existing digital content creation tools, so you don't need to change the tools your team is already used to. The interface is a graphical dashboard that feels similar to Facebook or Instagram with a visual feed of everything the artist needs to see and is a part of. Users can search the feed by keywords or tags, or utilize filters to sort and view specific projects. Files can be accessed directly from the Artella Drive area to be reviewed, edited, commented on, shared and versioned up. Artella's media review system enables dynamic editing on image and video files. Files are stored in the cloud and synced so all users are always accessing the latest version. Best of all, versions are saved and archived so they can "go back in time" to view previous versions if needed easily.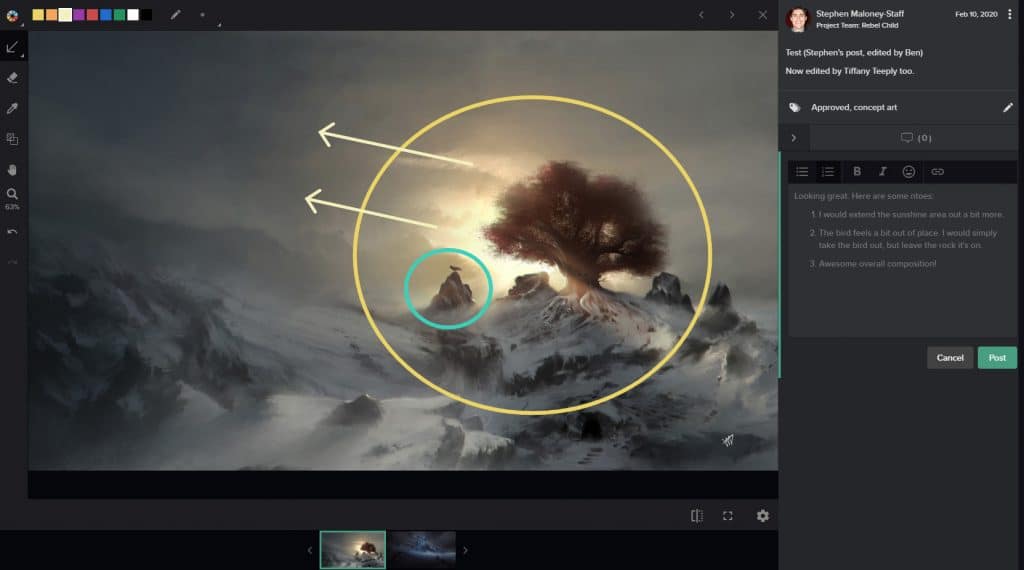 The file system is a true Digital Asset Management solution. There they can find every file that is related to their project organized in folders and directories that studios create and control. A project can be started with a blank folder structure or template of folders/files can be leveraged and reused so they don't have to be created from scratch every time.

Easy Adoption and a Fast Learning Curve
Artella can be installed and working in as little as a few days and onboarding happens quickly.
"Studios are noting fast adoption by their leads and teams. They are finding they get more collaboration across teams and vendors because people don't have to waste time hunting for or converting files," said Artella co-founder Bobby Beck.
It also allows supervisors and managers to see art in the early phases of development and provide feedback and input as projects develop in real time.
All of this is what makes Artella a next-generation pipeline platform. It integrates into studios quickly, and it helps them see a project from start to finish in one place.

Protecting Creative Copyright & Intellectual Capital
Artella works to protect their clients' data by providing private cloud hosting, strong permissions and single sign on access through reputable services many studios use such as Okta, OneLogin, Active Directory and Google Suite.

See for Yourself
During this challenging time, Artella has reduced its minimum user requirements from 100 seats to 50 seats and is waiving all setup fees to help small and large studios through the crisis. To see how this compares to traditional spreadsheet-based production management tools come check out our site and book a demo here to see how it could work for your studio.