The Making of Thistle One PART III: Animation Production Management – Bringing Characters to Life
Part 3 of a 3-Part Series on Creating and Producing a Short Film Project on Artella — The Creative Production Management Platform
By: Bobby Beck Director of Thistle One and Founder of the Artella Production Management Platform
Today's post is going to focus on the animation production process and how animators give life to the characters' performances. In addition, we'll be discussing the two most important post-production stages that set the tone and the mood of your film: Compositing and Color Correction.
Takeaways from the Lead Animator
By: Yamil Bermudez (Lead Animator)
From a summer blockbuster film, popular video games, tv shows to a small independent short film. Animation is an important part of the entertainment industry.  A production process has constant changes until the end, but quality and deadlines are crucial for any successful studio. Animators are the actors behind the camera, they give life to the performance, but it's a complicated process that requires good planning. Regardless of the size of the production, a team of talented animators is necessary.
Bobby gave me a great opportunity to lead the talented team of animators in creating the world of Thistle One.  My job starts by examining the previs provided, to get a taste of the director's vision. I would then assign shots to the animator team based on their strengths and weaknesses. The lead animator leads, but usually animates most of the complicated shots. After pre-production is done, the next important step is filming or finding references. Personally, this is one of my favorite parts of the process, here's where your creativity shines as an artist.
It was great comparing the Thistle One previs to the final edit. The animation part of the production took roughly 8 months while most of the artist had full-time jobs and families, so it was a big sacrifice to find that extra time, but the end result made every sleepless night worth it.   I'm super proud of what we accomplished.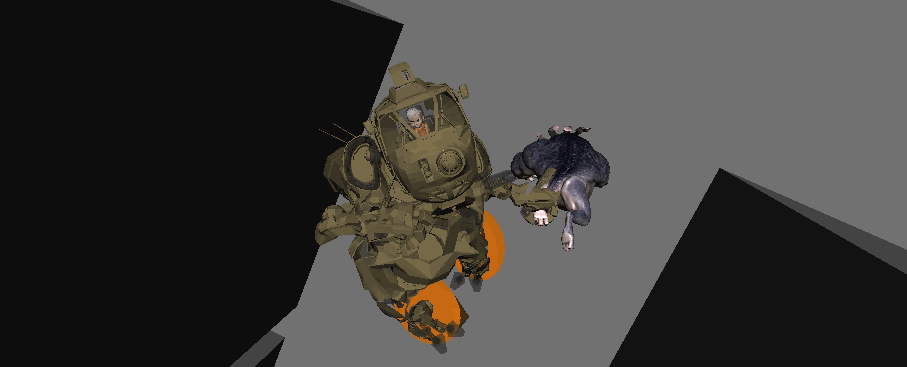 Near Final Animation Sample
My major accomplishments as a Lead Animator for Thistle One
Worked in every one of my shots with the same passion and dedication as the director.
Stayed committed to the project from day one until the final production day.
Helped other animators when they couldn't finish a shot due to schedule conflicts.
I would evaluate, motivate, plan and give constructive feedback.
My experience on Thistle One helped me advance in my career where I'm currently a lead Cinematic animator for a major video game studio, I'm currently working on some exciting projects and I now practice my Thistle One accomplishments on my current job.  I simply love what I do for a living.
Main things I share daily with my animation team
Be positive about every shot, critique, long hours and even rework that they give you at a Studio.  We learn and grow from our mistakes as long as we always have a positive attitude.
Never take feedback personally.
Constant and last minute changes are part of any production.
Remember that there are thousands waiting to have the opportunity that you currently have.
Always find the time to go the extra mile, Wake up one hour earlier.  Reply with enthusiasm when the director asks who could give an extra hand on extra work.
Listen to your body so you know when a break is necessary.
Lighting
In lighting, the artist takes all the images, textures, and files created in Maya and other tools and processes all that data into images. They "light" the images to give them depth and shadows and make the textures come alive, then put that data into an image format and pull them into a "frame." The frame is what the compositor works with.
Takeaways from the Compositing Supervisor
By: Rafael Casagrande (Comp Supe)

Final Comp
What is Digital Compositing
Digital Compositing is the process of manipulating and combining at least two images to produce an integrated result. Well, at least this is the "boring" definition of digital compositing. In practice, digital compositing is all about delivering a believable context, to create a rich visual experience for spectators. The compositor is responsible to make everything look like it was photographed at the same time and by the same camera when in reality there are multiple assets from multiple sources inside the same scene.
In animated films, compositing is a very artistic aspect of the production, is all about the union of technical knowledge with experimentation. Although compositing is one of the final steps of a film, our work is highly dependent on good deliveries in the previous steps, so one of the most important aspects for a quality shot is teamwork! During the production of Thistle One, the team had weekly meetings where we discussed all aspects, from concept, matte paintings to lighting/compositing and the best settings to avoid some limitations of rendering. Always aiming at great looking scenes!
Looking at the real world as a piece of art
When we see a giant robot fighting an alien creature in a destroyed city, we have all the arguments to not believe what we are watching. But when the context looks correct and we have images that tell us an eye-catching story, we don't need to worry if it's fake or real. This visual correctness is only possible because the artists observed the world around them before creating their work. It's all about observation, we imitate nature and add creativity on top of it.
In Thistle One, when we merged all the renders together in comp we had amazing images, but there were some factors that we always needed to be aware:
AOVs:
AOVs stands for Arbitrary Output Variables, and it is a way to render shading network components into different images. This separation of variables is a great way to give more control for the compositor, like separate lighting passes, mattes for specific objects and materials and so on. Some passes have a tremendous impact on the aesthetics of shots, the Depth Pass is a good example of this since it allows to simulate depth of field accurate blurring. When working with CGI, is important that the compositor get as much information as possible about the 3D passes that will be available in render. Some passes have important information that can save a lot of time!
Using motion blur to tell a story:
Thistle One is an action-packed film, and motion blur was an important aspect to create a more realistic feel to the acting of the characters. During the crew meetings, we've decided to render Motion Vector AOVs for each shot, since we had some restrictions when rendering motion blur directly in 3D. This extra control in comp was pretty useful when we wanted more sharpness during some moments.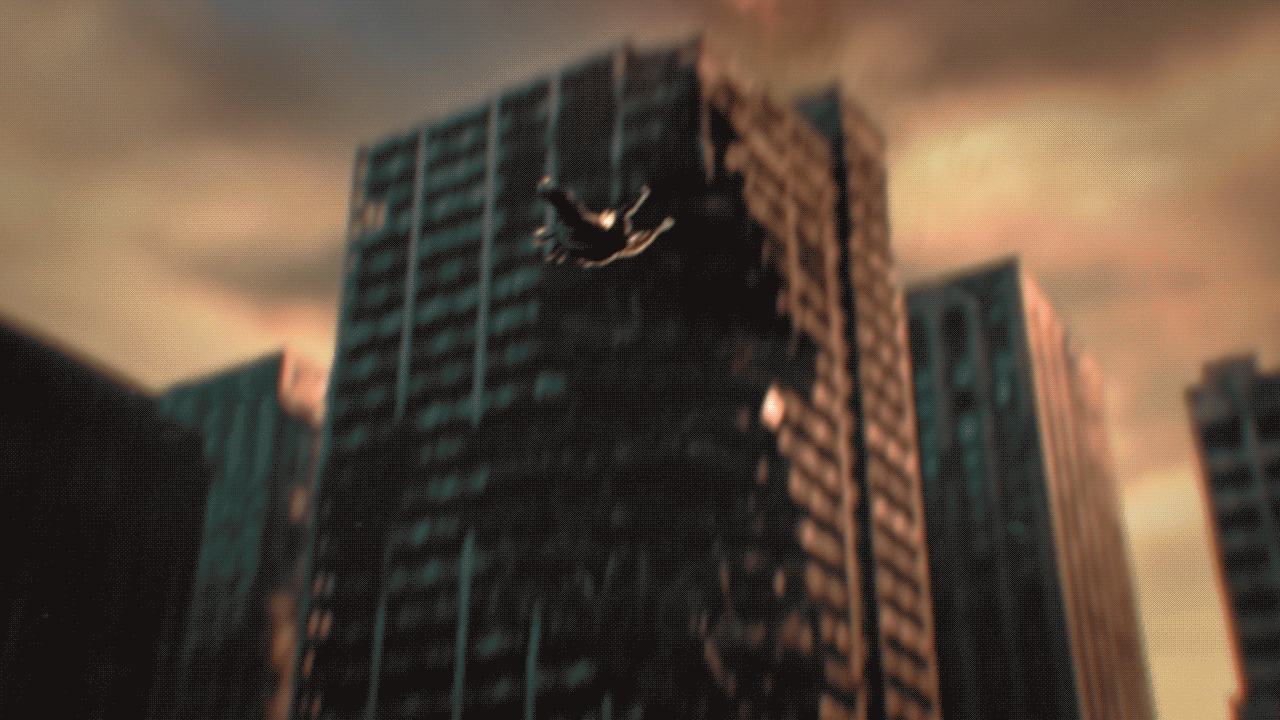 Atmosphere and additional FX:
Dust, fire, smoke, sparks, particles, you name it… All these elements are needed to enhance the action! In 3D Compositing the integration of elements is a joy since the artist has more control of the mattes and can use the camera of the shot to matchmove any new asset to the scene. It's important to have in mind that to integrate these new elements you'll have to make some color correction to make it work. In Thistle One we had some really nice fx plates, made by talented artists, so the idea of adding extra footage and textures was intended to add impact to their work. In some shots, I've painted extra drool in Dozer's mouth and it was a pretty cool exercise.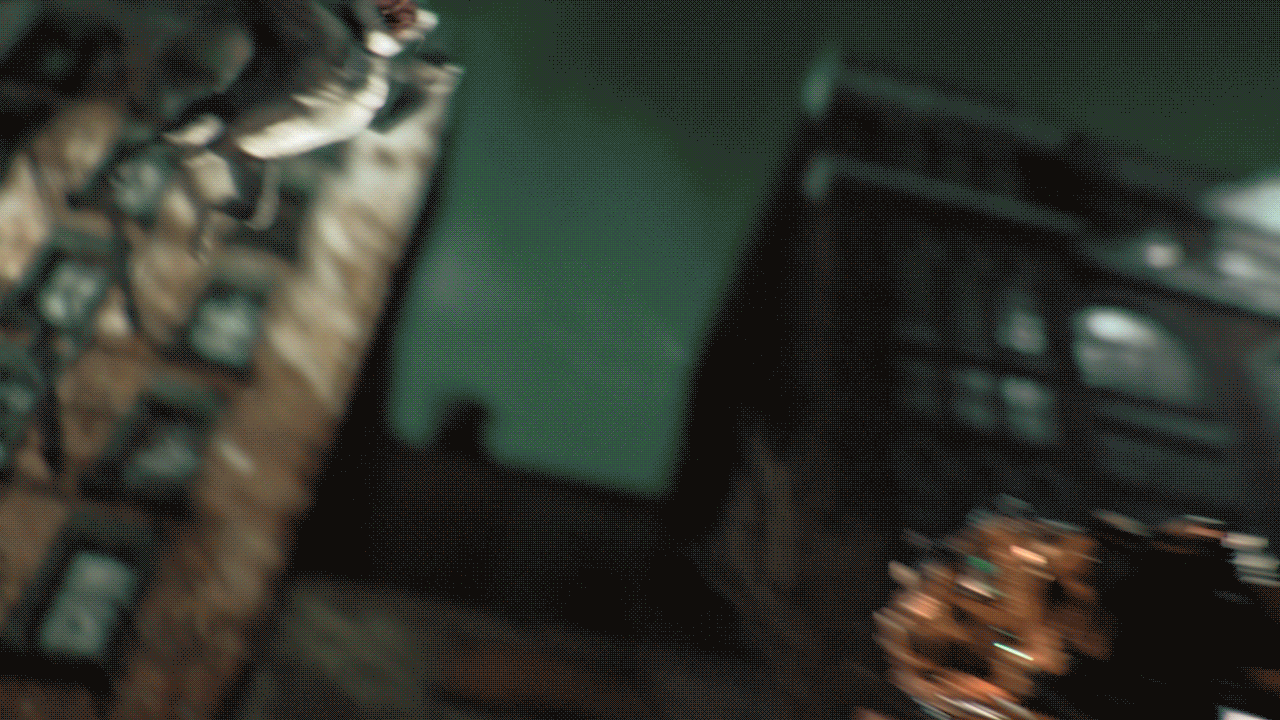 Lenses:
The look that we wanted to achieve in Thistle One had a direct link with live action references: fast-paced camera movements, realistic effects, and textures that had to be seen as a slice of the real world. In the compositing process it was noticeable that there was a need for that dirty, imperfect camera look, so our director Bobby Beck suggested that we treated each shot with different intentions, each with a singular photography. We avoided that crispy clean look, added some extra grain, chromatic aberrations, lens distortions, flares, and dirty lens textures. This aesthetic proposal was the fruit of the exercise of learning how the camera perceives the world around it. In other words, not only does the compositing artist need to constantly learn how to see, he or she will also need to constantly learn how a camera sees.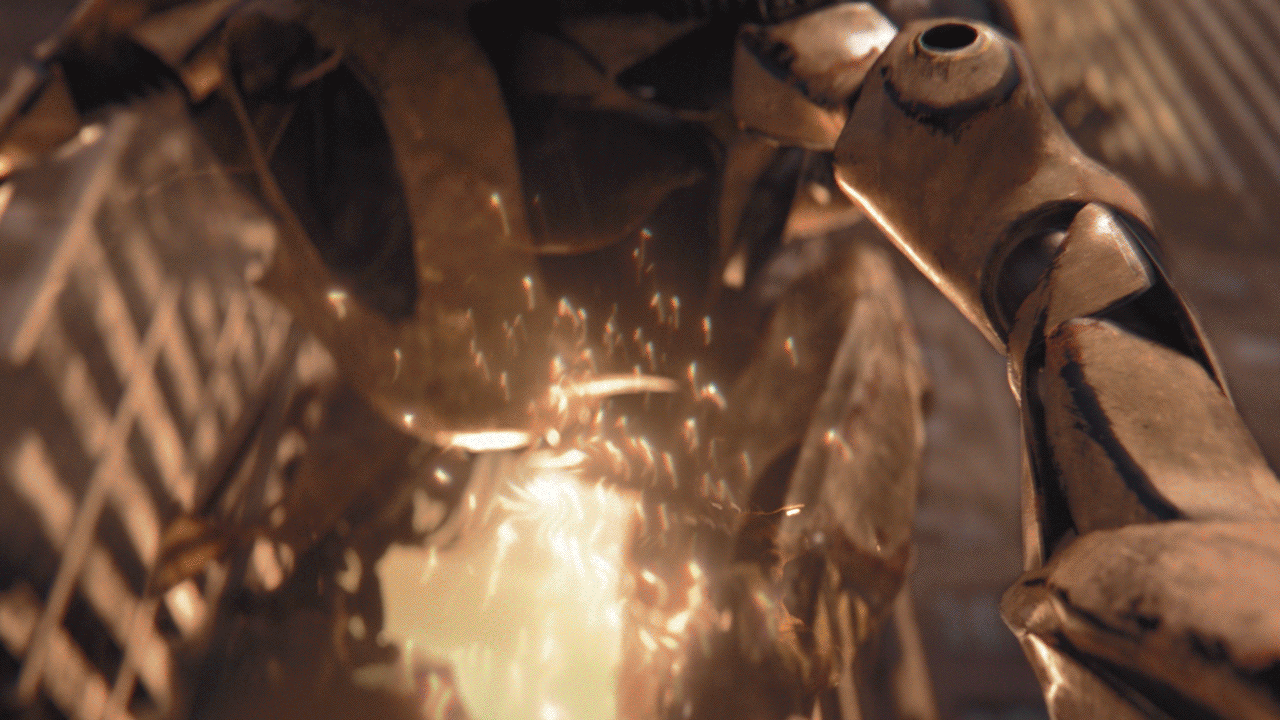 Compositing Tools:
When you're working with CGI is important that you select the tools that translate the best of your artistic views, every software has a learning curve that can be challenging, but it's important to remember that everyone had a first step to learn it. Personally, I really have a passion for Nuke, which luckily is the film industry standard for compositing at this moment. When I've started in compositing I've worked with After Effects, which I still use at home and really enjoy it. When I work as a colorist, I use Davinci Resolve, and the knowledge about color spaces and color manipulation that I've got by studying this software really helps me in my job with Nuke.
The most important tool for compositors is the way that they see the world around them. How these perceptions will translate into imagery is a question of practice and hard work!  But it should be noted that as a compositor, you will often be walking a path that isn't always firmly planted in that same world. Very often you'll be asked to do what looks "good" even if it doesn't look completely "real." The challenge is to combine the best between the technicality of reality and the artistry of imagination.
I hope this section will help to enlighten you about how we think when we make a digital composite. Thistle One was a great experience to develop new artistic solutions and during this project, I've had the luck to meet really talented artists that were eager to share knowledge and create a beautiful piece of collaboration.
Color Correction
It was told to me that a film tends to come together in the comp and color correction stage. The overall quality and look of the film is really brought together here. Color correction is what Instagram is to photos; but so much more. It allows you to really heighten the look and feel of the picture quality. Carlos Baena was key in shaping the final color correction of the film. He had just finished up his incredible film, La Noria and we were honored to collaborate during the film and in the final stages to really help give the picture quality the level of detail I was hoping for.

Our shot production folders in Artella. Each folder houses the files for each shot.
In Closing
By: Bobby Beck (Director)
Now that the project is completed and out in the world we're working hard to get it in front of studios to see if they might be interested in having us develop more of the world and story of Thistle One. That is the next stage for us and, like with production, we go through with strong starting energy and are now pushing hard in the sustaining energy phase of the pitching process. But we'll save that for another post.
We hope you enjoy the project as much as we did making it.
Luckily we were taking the learning we had during the project to help refine the features and functionality of the Artella platform. We refined the platform all the way through with the Artella team and it got stronger as we went through. There are still many areas of improvement and it's exciting to know the product team is so dedicated to making it outstanding.
To read the first two parts in this series, you can find Part I here  and Part II here.