DUEL is a short film being created through Artella in partnership with the CTN animation expo and will air on Friday, November 18th at Noon at CTN in the main theatre followed by a panel with the director, Tim Rudder, art director, Tobi Trebeljahr and additional crew members. The short film will be posted online for the world to view after CTN.
Artella: We've been blown away by the visual style of DUEL. How did you you go about defining and designing the magical world of DUEL?
Tobi: Most of world was derived from the first artwork I made for the project overview page to advertise DUEL on Artella; our main communication and pipeline platform.

Above is the first pitch artwork I created. A lot of things premiered here including the spiky vines as a runway and the rough design for the Beast character.
In our film, the jungle is an imaginary world. The kids dream it up together and have a wild dynamic chase. So we didn't want a romantic and moody fairy tale forest, but something that said: fast-paced-action galore!
That's how I came up with big vines as walkways for the characters, intercepted with huge boulders of ancient rock, suspended in tangles of smaller creepers. Those give the right level of strong lines and surreal awesomeness to the setting.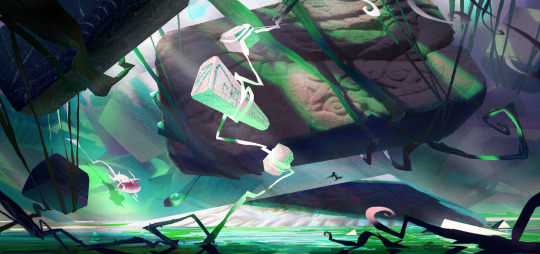 Early concept featuring the suspended rocks
The neon colored look came from the same thought of, "not so much romanticism please". The initial header image was just a bit too normal and standard-lush-forest in color and light. So i tried to push it a bit in a more stylized direction, to emphasize the otherworldliness of the place, and to distinguish it better from the grizzly real world setting we see later in the piece.
I think it translates quite beautifully into the 3D sets, and gives a good stage to the character-action, while being simple enough to not distract from it.
Artella: How did you go about designing the beast character? What was you inspiration for it? 
Tobi: The Beast came practically 1:1 from the original pitch artwork. We explored a bunch of other possibilities, but…
The giant expressive mouth, the catlike body and face that make it as formidable as it is likable made it the No. 1 pick.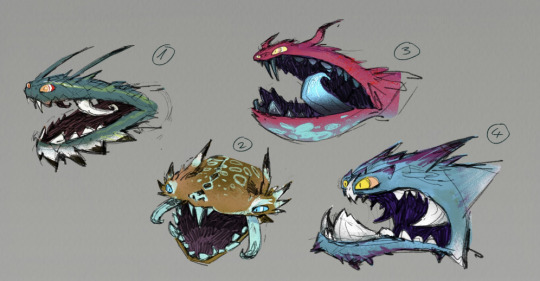 Some variations on the beast's head
In this case the inspiration ran along things like prehistoric vegetation (giant size of everything, no real 'foliage') and sidescroller video games (clearly defined 'runway', low-poly-look). I usually started with quick layouts, trying to figure out how to maximize the "fast chase sequence" effect with strong dynamic lines in the composition. After the first few paintings, we'd mostly have some 3D previs ready, which I used as a base to colorboard and further develop the sequence (see below).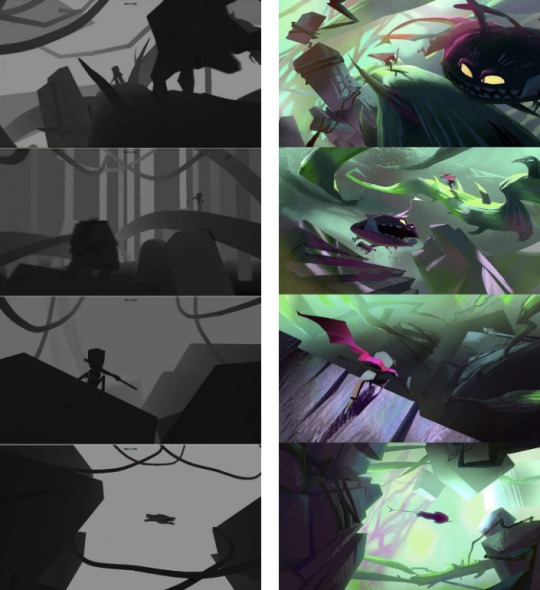 Shots from 3D Layout (left), with colored paintovers (right)
Artella: What were some of the challenges for you seeing your designs come to life? Did it all just work or did you have to make modifications along the way?
Tobi: I'm actually amazed how close our team came to what my initial thoughts on environment were.
If we'd have had more time, I would have loved to include a greater variety of weird plantlife, rocks, architecture, maybe even other fauna. Just to make the fantasy more juvenile in a way fitting to who dreams it up. In retrospect I think though the sets as they are work quite nicely, as their simplicity doesn't distract from the character-animation.
Artella:  We understand the team is spread out over 12 countries and 16 time zones! What was it like working with a fully distributed team through Artella? What did you learn?
Tobi: I experienced how smooth it can be today to work with a spread-out team. The combo of Artella and Slack made this possible. Sure, sometimes you stay up late, or a meeting is at 7 in the morning to match with all the time zones people tune in from. But, it's really not that different from working with another person or team in the next office over, except for going for a drink after the the day is done, of course.
Artella: Now that DUEL is nearly complete, what's next for you?
Tobi: First I hope to spend some lovely days with a bunch of nice people at CTN. After that it's back to Germany for me, where I`ll have a little gig in Berlin. In April next year I'll start preparing for my thesis at Filmakademie, while hopefully doing some cool freelance projects on the side.
---
Be sure to check out CTN Animation Expo in Burbank this November 18th – 20th. DUEL will be Premiering as the show opener Friday, November 18th at 11:30 AM in the main theatre and a, "Making of DUEL" panel with the director and crew members on Sunday at 10 AM at Talent-opolis Center Stage. We hope to see you there!