Michael Cawood is a pioneer in the independent animated filmmaking world. His short film, "Devils, Angels & Dating" has over 10 million views online!
Michael has taken on a new project, The Wrong Rock, and chose Artella as it's home. It's been exciting to see the progress him and his incredible crew are making on the project and he took some time to share some of the progress and concept art with us via this post.
Artella: Tell us a bit about your background and why you decided to make an animated project.
Mike: I've been working in and around animation for about 20 years and I've made a lot of short films. I feel more myself when I'm creating things and animated filmmaking is my medium of choice. It's a compulsion and something that balances out my working life very well. (balances out my day job working in animation and Previs for feature films.)
Artella: Tell us about your project on Artella, The Wrong Rock.
Mike: This is a story about Martin the mushroom who doesn't fit in where he grew up but learns about a place he can be himself. This is the story of his quest to get to the promised land. Along the way he overcomes prejudices he wasn't expecting and inspires others to re-evaluate themselves and make improvements in their own lives.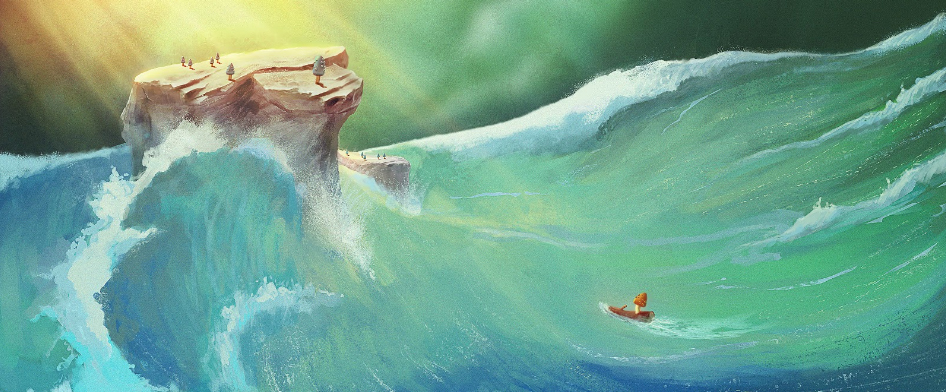 Concept Art by: Solomon Gamino
Artella: Speaking of story, how did you come up with the concept and how are you exploring it further now that you have a crew?
Mike: I asked myself, what was the issue I felt the most connected to and opinionated about? The answer was in-equality, being treated differently because of something you have no control over, your nationality, sex, age, etc… I'm a British, white, male and although, to many, that sounds like I had it made I still found that it presented biases and exclusions that made living the life I wanted to lead an unjustified challenge. I certainly don't have it the worst, but I still relate to others when I see similar problems. I thought about the simplest way to build a story around this topic with the broadest reach. At first that involved pebbles on a rock at sea, but when I thought about it the pebbles just wouldn't be flexible enough to emote the minimum requirements of the story. So I upgraded to toadstools, and Martin the Mushroom was born. The team has spent some time animating the toadstools now and there's been some interesting performances that have come out of it, given that the characters are so limited. Admittedly we have slightly more to work with than John Lasseter did when he was animating his lamps.
Artella: What is it like working with a distributed team?
Mike: It can be both wonderful and challenging. Firstly, casting a net over the whole world makes it much easier to find like-minded talented artists that relate to the story you're making. Without that I know, from past projects, you're unlikely to find the talent you need without having a budget to pay everyone. Secondly you do encounter cultural and language differences, not to mention very different levels of professional experience, so you have to tackle every problem from multiple angles and repeat yourself in different ways to make sure you've gotten your point across. But you also have to try hard to read between the lines and understand the hidden meaning in what you get back. The challenge is figuring out what means what. I try to encourage my team to post often and communicate in ways the whole team can participate in. But some artists like to retreat to their comfort zone and beaver away on their artistic pursuits without communicating for long periods. I've gotten some amazing work from artists like that, but they can also be the hardest to work with, so the challenge is inspiring them to share and discuss their process.
It's early days yet. But so far I've been really pleased with the quality of the concept art and storyboards we managed to get from the team on Artella. This is an area I really struggled with for my previous film and this time around it's gone so much better.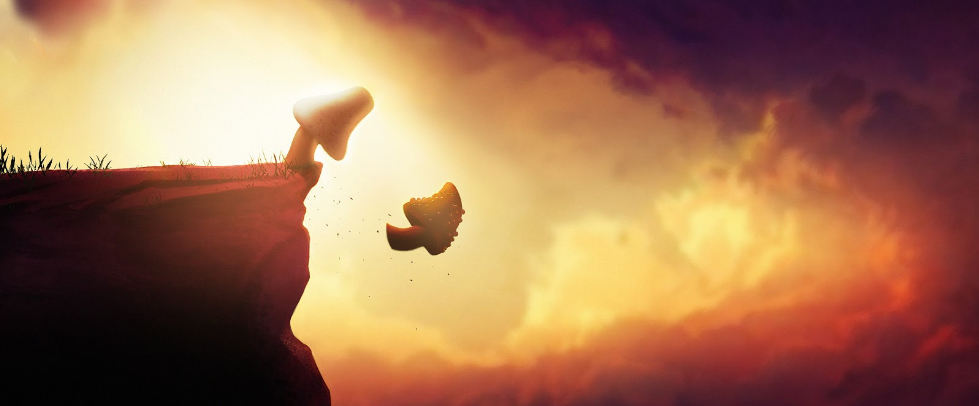 Concept Art by: Solomon Gamino
With so many unique production challenges, from the remote team to the technical challenges in 3D production, one challenge is staying on point with the story and filmmaking and not getting bogged down with the production elements. I often take a step back to remind myself of the bigger picture, and that can conflict with the individual team member's needs. Since I'm also working mostly full time, fitting in time for big picture thinking and helping team members out with every issue can be very challenging. I'm extremely lucky to have a supportive partner in our Producer and my Fiance, Julie Pifher.
Artella: Oh, that's great that you get to work with your partner as your producer. Speaking of producers have you had this role on other projects you've worked on? What, in your experience, are the benefits of having a producer?
Mike: The role of Producer can vary so much. For personal projects without a budget I've typically handled most of it myself. But it's nice to have someone else doing their best to take some of the weight off my shoulders. Julie has been handling team paperwork, looking for avenues to fund the project and attach interesting talent to get our message out to a wider audience, and as a writer and filmmaker herself, she's been our toughest critic. If it wasn't for Julie the film might not get made for another six years. But with her support we're hoping we can finish it within the year.
Julie: I think he's giving me way too much credit! He's working tirelessly on the project despite now also working full time. This is actually my first fully animated project, so it's a learning experience for me. I've created and executive produced television, mostly reality and documentary TV. But contracts, funding outreach, and talent attachments are the same tasks no matter what type of project you're creating. Budgeting for animation is much different than live action however. So I'm learning most about hard costs and how long the animation process takes.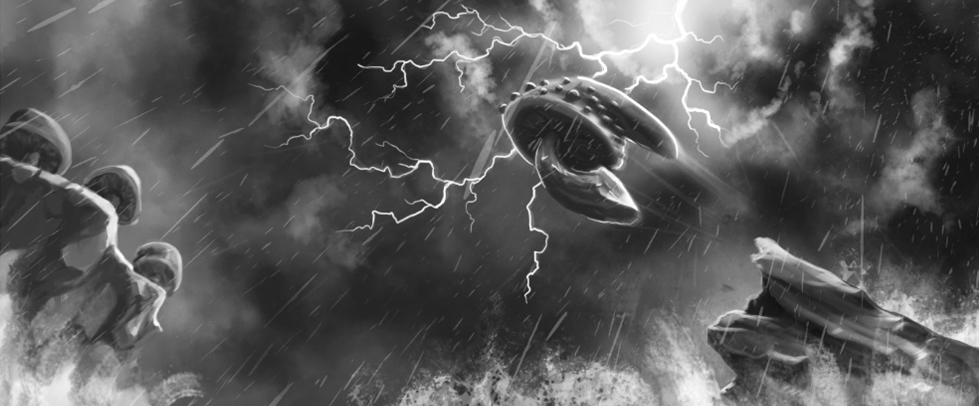 Concept Art by: Arturo Velasco
Artella: What is your desired goal for this project?
Mike: My last film, "Devils, Angels & Dating", was very much about getting something that looks like feature animation into my portfolio and collecting my knowledge, from years in the industry, into one project. It wasn't about festivals and awards. We wanted to make something that would look good in our portfolios. I even designed it with that in mind… and I had no shortage of animators who signed up to work on it once I did. It paid off and has over 10 million views online now. But, "The Wrong Rock" is more of a prestige project and I want to use it to stretch my storytelling skills and tell a high quality story, even if the premise seems simplistic (toadstools on rocks), we're doing a lot with very little. I expected it to be harder to recruit talent for, but that's OK because the scope is small enough that I could finish it myself if I needed to, bringing on other artists is a bonus that allows us to make it quicker and better.
Julie: I love the message this film expresses, and I really hope we're able to touch viewers in a visceral way. This is a tumultuous time, and the world needs positive messages of inclusion. Hopefully viewers will give their worldview a second thought.
Artella: What tips would you give to other creators looking to start an animated production?
Mike: One of the best things you can do before starting your own project is to work on a couple of other people's projects. Things will go wrong, and you'll see tips you couldn't have taught yourself in years. It's an easy way to learn before you invest time in something much bigger. I've had numerous team members join my projects then move on to creating their own films further down the line. I've helped out on other projects as well and that can be very refreshing as my involvement doesn't have to be as long as when I make my own films, but the results have been great for fleshing out my portfolio.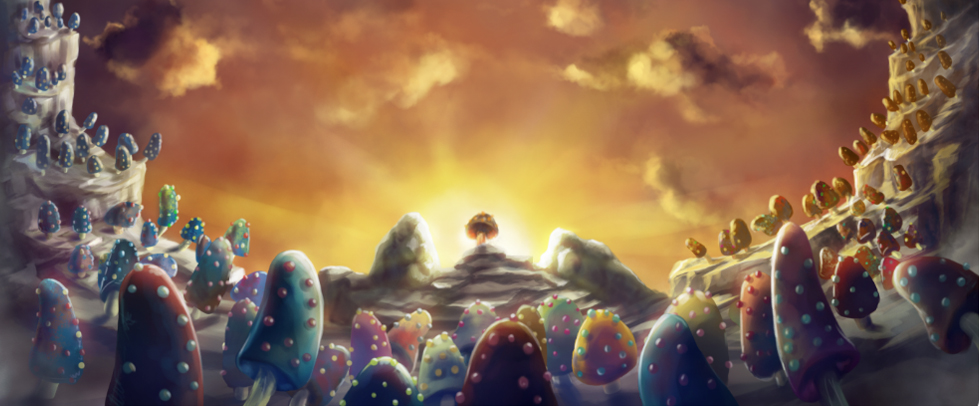 Concept Art by: Arturo Velasco
For more information about, The Wrong Rock you can visit their website.
Professionally, Michael has worked on over a dozen feature films and video games as an animator, supervising animator as well as in previs and postvis for film ( IMDB ).