Michelle Wibowo told us about a recent experience where she shared the film, "DUEL", which she worked on via Artella, with children in Jakarta. The experience was so touching we wanted to share it with you to showcase the power that sharing your experiences has on others.
By : Michelle Wibowo
On Thursday, April 20th 2017, I was invited to speak at an arts and craft workshop for underprivileged children in Jakarta, Indonesia. I was invited by a relative of mine who volunteered for Hore Indonesia charity organization. The children who attended the weekly workshop live in the slum area called Kampung Guji in West Jakarta. There were about 20 children that came to the workshop, ranged between two years old up to twelve years old. Most of these children came with very little or without supervision at all, and often the older children brought and took care of their younger siblings during the workshop because their parents were working. The event is held every week to give these children activities (rather than hanging out on the street) and give them opportunities to explore new information that would have been out of their reach.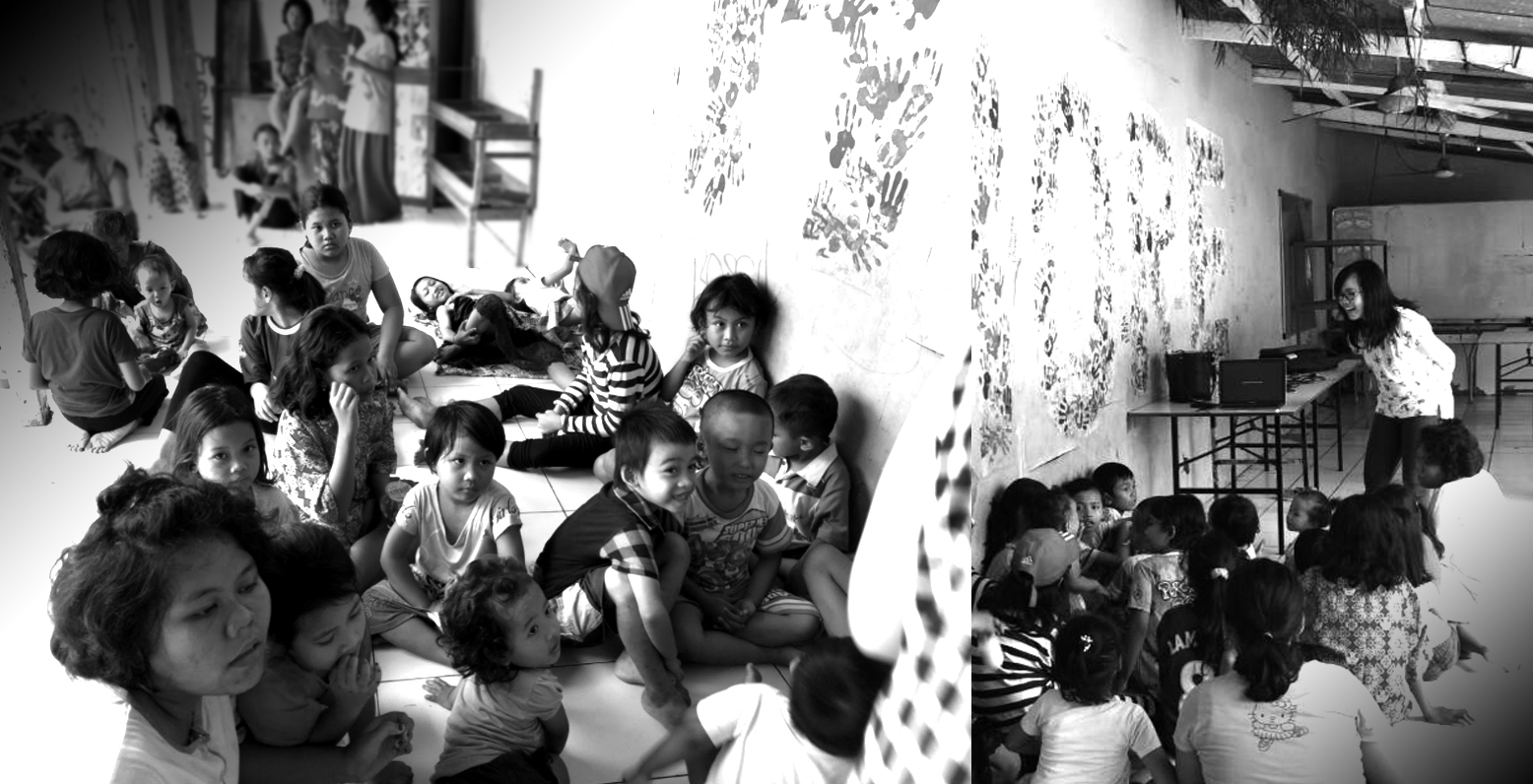 Michelle sharing her inspiration with the kids.
During the event I briefly explained about the process of animation production with emphasize in character design, followed by a screening of, "DUEL" and a drawing workshop. Our goal was to encourage them to explore new ideas by showing them that every animated movie started from simple drawings. They weren't familiar with the concept of animation, or even consider animation as a career possibility. Most of the children have issues with insecurities and low self esteem, which became a challenge during the workshop. These issues were rooted in their upbringing, as well as the education system here in Indonesia where art and creativity were often overlooked. There were more imitation rather than exploration in those drawing lessons in schools, which I had similar experience when I was growing up. Therefore, these children did not have the proper tools to express themselves and voice their opinions.
Some of the kids drawings from the workshop.
Due to their circumstances, these children are forced to grow up with very little opportunities and exposure to broader education and information. Showing them "DUEL" was quite a treat, as the simple story presented in a beautiful setting opened up their imagination and they were able to relate to the characters. The action and the pace of the story hooked them in from the beginning, and not having any dialogue was very helpful because they didn't have to worry about language barrier. By the end of the workshop, some of the children requested that we show them "DUEL" a few more times, particularly the little boys who loved the action sequence so much.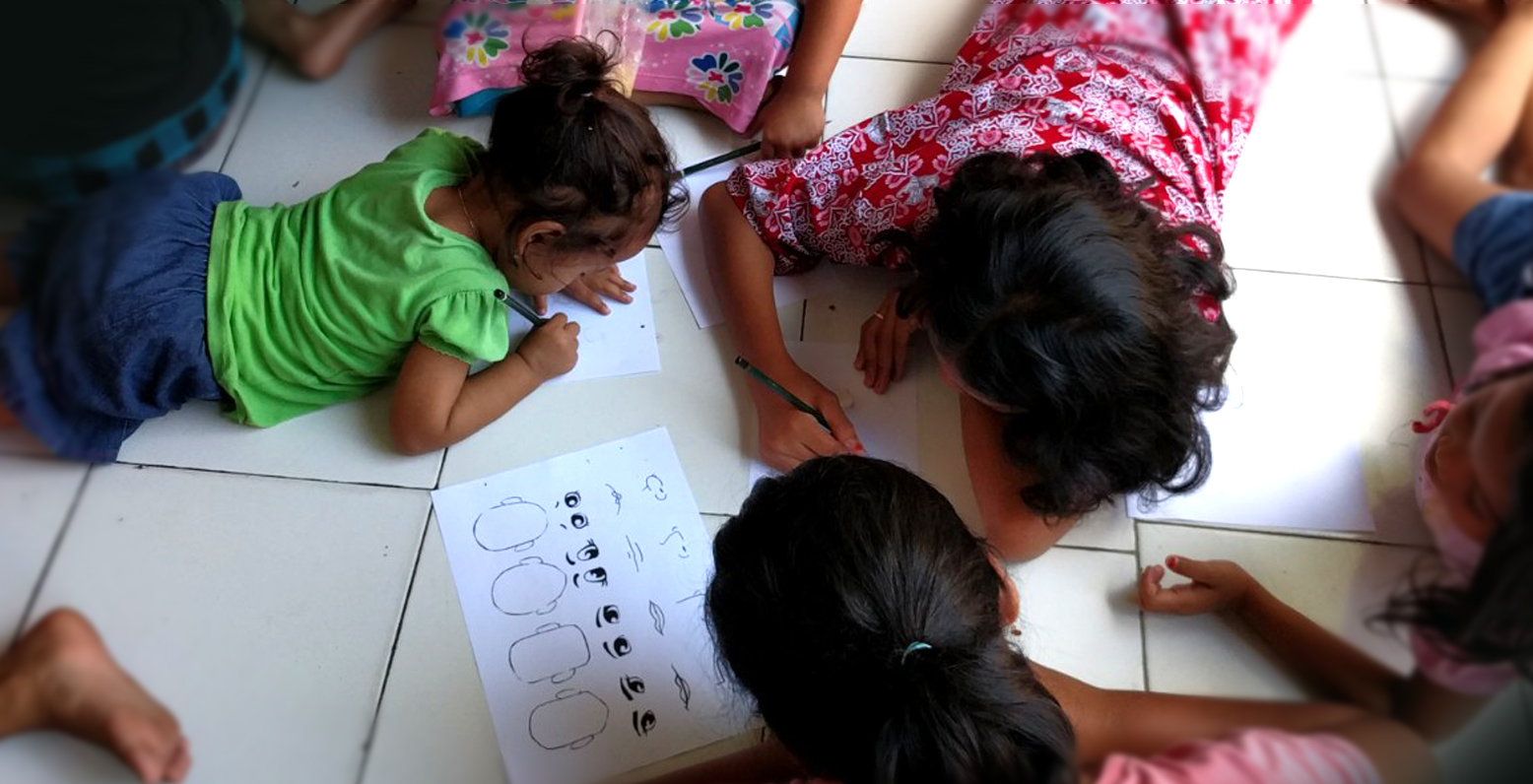 The kids hard at work in the workshop.
Sharing our story through animation to these children was a powerful experience for me. Their living situation did not only affect the obvious financial limitation, but also their confidence and their self esteem. The biggest thing that excited them the most during the workshop was us giving them our full attention. They loved that someone spent time and actually helped them to accomplish something. Therefore, I am grateful for the opportunity to have worked on "DUEL", and knowing that the film has made their day a little bit brighter is priceless.
Thank you to my cousin, Karina Takajo, who invited me to talk to the children in Kampung Guji. To know more about Hore Indonesia Organization, visit their website: http://www.horeindonesia.org/
Photos courtesy of Karina Takajo and Michelle Wibowo.